false
Nissan Intelligent Mobility helps to make you feel more connected, more confident and more in control. It helps give you awareness of the road ahead and can even offer a helping hand when you need it most. Nissan Intelligent Mobility minimizes driving stress, so you can focus on your journey. Feel the future now.

Smart Rear View Mirror (SRVM)
The high-definition lens is used to capture the dynamics around the rear of the car, providing real-time rear-end images, broadening the viewing angle, reducing dead spots and blind spots, and helping you to fully control the road conditions.
HAVE A BLAST AT THE DROP OF E-PEDAL
Emerge into a new driving experience by using just one pedal. Accelerate to instant speed by stepping onto the pedal, and slow down by lifting off your foot. This helps you to drive on a hill without the need to step on your brakes. You can also switch back to the basics with two pedals if that is your preference.

Whether it is accelerating or slowing down, enjoy our intelligent feature of the e-Pedal that allows you to accelerate and brake with just 1-Pedal. Each journey behind the wheel becomes easier, smoother and more exciting.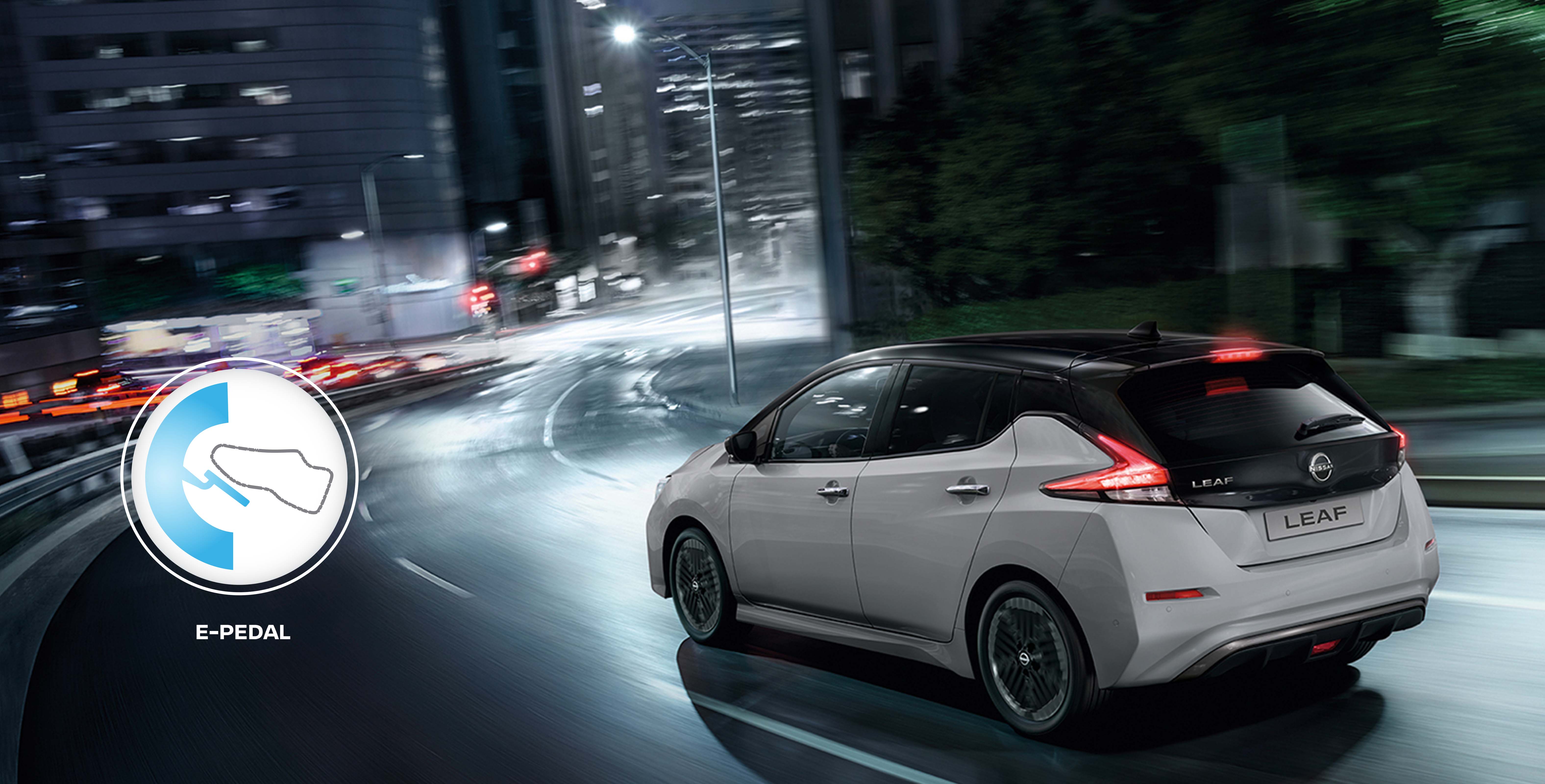 BLINK AND YOU'LL MISS HOW LEAF SAVES THE DAY
Nissan LEAF is not only designed as a vehicle but also a driving companion with highly intuitive functions from the future that assists you on the road every step of the way.

INTELLIGENT TRACE CONTROL (ITC)
The system can apply braking automatically to each wheel, helping to keep the vehicle on the cornering line as steered. It helps drivers maintain control and drive around corners more confidently.

INTELLIGENT EMERGENCY BRAKING (IEB)
The system detects the car in front. Warning and even auto braking will kick in helping you to avoid or minimize the impact of a possible collision.

NEW - LAND DEPARTURE WARNING (LDW)
If there is a risk of the vehicle leaving the traveling lane unintentionally, the system provides visual and audio alerts to prompt the driver to take action, followed by a selective application of the brakes to help move your vehicle back into its lane.
CONFIDENCE IN YOUR EVERY MOVE
Nissan Intelligent Mobility features are there to support you, take notice and give you a heads up. Nissan Intelligent Mobility features make you more aware of your surroundings and give you a whole new level of confidence.

INTELLIGENT AROUND VIEW MONITOR (IAVM)
An intelligent system that assists the driver to see everything from all sides through 4 cameras installed around the car. Every camera
will capture real-time movements and create a virtual bird's-eye view graphic of your Nissan LEAF on your screen at the center console. By working alongside the Moving Object Detection (MOD), a system that alerts you whenever there is any object or movement detected in those cameras, you can be sure that this innovative technology will ensure your safety and confidence in every journey.
Photos and information may vary from actual vehicles sold in Hong Kong, and specifications/information are subject to change without prior notice. Please contact Nissan Hong Kong for details.